Rating: 8/10
I've never been a big fan of documentaries. They've just never been my go-to, but when I found myself looking at either re-watching Mamma Mia: Here We Go Again or Hotel Transylvania 3 Summer Vacation, it was pretty obvious. I had seen trailers on YouTube and a bit of chatter from my favorite channels. So, I decided to give it a chance and I can honestly say I am glad I did.
My biggest problem with documentaries, is that some of them just drone on and on, drowning viewers in information. But from the very first couple of minutes of the film, I was hooked. I needed to know what happened to the three 19-year-old boys who found out they were brothers.
Rather than just a sit down interview, with interviewees placed on either the left or the right third of the shot, with filler cutaway shots thrown in between. David Kellman and Bobby Shafran sat dead center of the shot, telling the crazy true story of their lives. While most of the story was told through real documented photos and videos of the triplets life, surprisingly, the story was filled with re-enactments of certain moments of the boys' lives. Creating their story to be something you would see on the History Channel rather than on 48 Hours.
To keep viewers enthralled, the plot moves fast through all 57 years of David and Eddy's lives. Yet, it is the surprise twists every 30 minutes that threw me for a loop. When I sat down in the theater, I believed that I would watch a 90 minute documentary about triplets being reunited with a underlying message about the importance of family. That was not the case.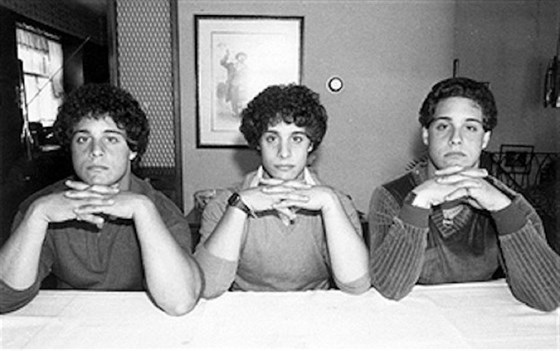 Despite there being about a total of 10 people in the audience (including myself), audible gasps could be heard. I ended up leaving the theater questioning my own reality and if I was separated at birth from a possible twin. Three Identical Strangers leaves you with so many questions, about yourself and about the triplets.
From the moment I walked out the theater I've been telling everyone I know to give this documentary a chance, that it will change them. So, now I'm stressing it to my readers. Rather than going to see Mission Impossible this weekend, take a chance on this film.